June is National Safety Month.
June 24, 2022
Nor-Son's commitment to safety is strong!
As June comes to a close, we want to reflect on what we do at Nor-Son Construction to implement safety into our everyday lives. Safety is important to us, and we are proud of our employee's commitment to safety. Under the guidance of OSHA/Environmental Compliance Systems (OECS), Nor-Son consistently improves its safety program and practice in the workplace by offering and enforcing training modules for all field supervision, craftsmen and project management. From fire drills to CPR training, and First Aid training to company-wide discussions, we take the extra step to ensure our employees are confident in Safety by Choice, not by Chance.
Nor-Son Construction's current Experience Modification Rating (EMR) is .74, below the national average of 1.0. Nor-Son also has an active Safety Committee that meets to review and implement the latest standards and training opportunities, not only for our field employees but the office as well. This past month both our Baxter and Wayzata teams had many training opportunities to ensure a safe workplace that can also be used in our personal lives.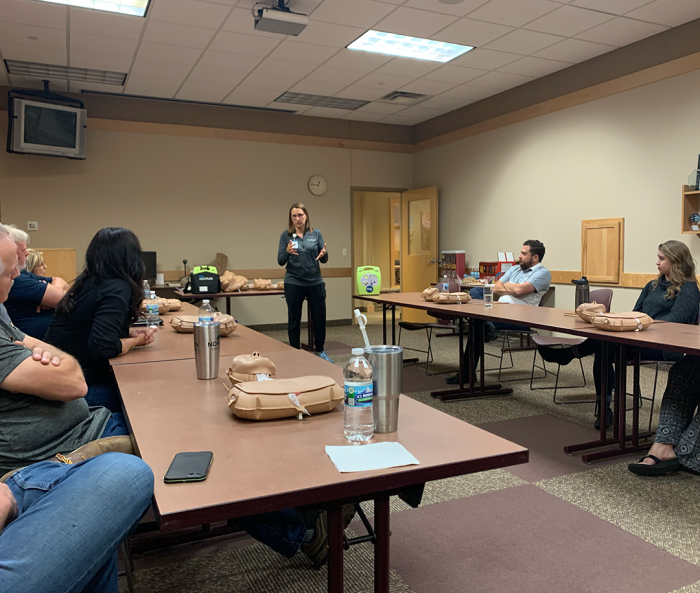 Collette Fitterer, a Registered Nurse from Essentia Health, gave hands-on CRP training in Baxter.
Nor-Son Project Manager and Excelsior Chief Battalion Fire Fighter, Nate Bassinger, led the training for our team in Wayzata.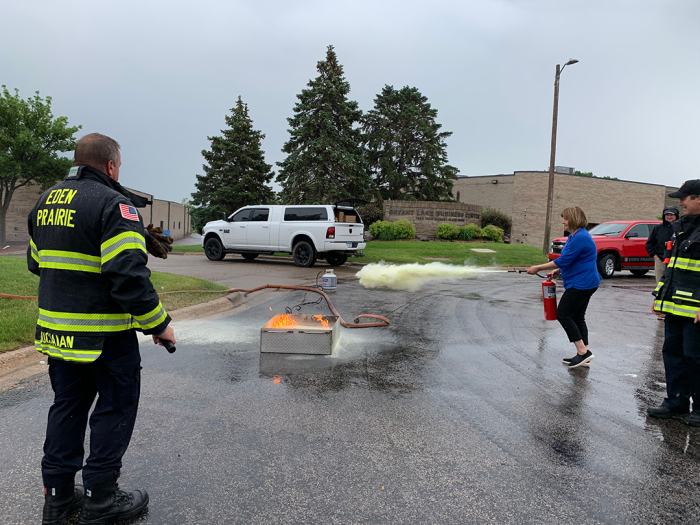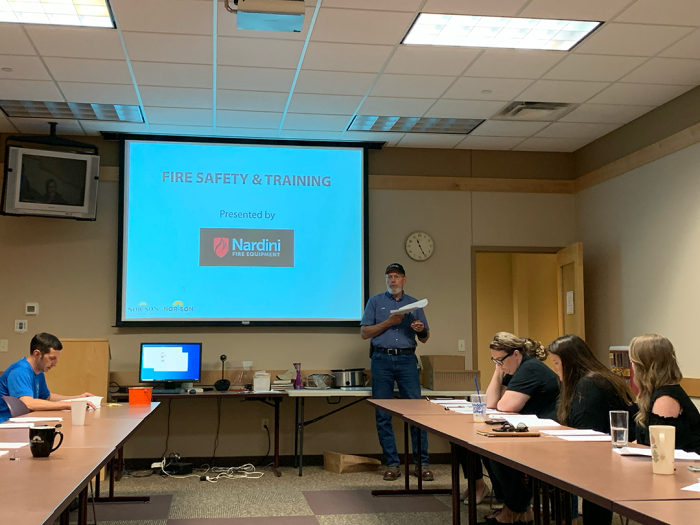 Rain or shine we carry on! Fire Company and Eden Prairie Fire Department presented fire safety drills to our team in Wayzata at the job site of our new metro office that will be completed in March of 2023. Nardini Fire showed the Baxter team how to properly use a fire extinguisher, and Nor-Son's Safety Warden's reviewed emergency procedures such as evacuation protocol and storm shelter.
With the summer months upon us, it's a good time for us all to remember to slow down, think before you do, and be safe. Below is our commitment to safety and the words we live by every day.
Our Commitment to Safety
Zero is achievable and is the expectation of everyone who works on our team.
We care about each other. The safety and well-being of our team and their families is vitally important to us.
Every person is responsible for their team's safety.
Every person strives to improve the safety awareness of those around them.
Everyone has the personal responsibility, authority, and support to stop work it is unsafe.
All incidents are preventable. There is always a cause from which we can learn.
We will not take shortcuts that compromise safety.
Everyone is encourages to voice opinions and ideas. Good catches and incidents shall be shared so that we can learn to be safer.
Everybody wins. Safety, quality, and production are achievable together.
Safety never quits. Our families, friends, and teammates need us to be safe all day, everyday.